Cat Has Bad Breath – How to Get Rid Of It!
If your cat has a problem of bad breath, then she might be suffering from some problem. If that bad breath of cats is regular and is getting stronger day by day, then do not consider it normal and look for the reason.
Cat bad breathe can occur due to many health problems. In fact, recent research has shown that more than 80% of cats over the age of four suffer from the problem of bad breath. There are a variety of dental and digestive problems behind this bad breath.
If you want to know why the cat has bad breath? What are the causes behind bad breath? And how can you get rid of bad breath? Then read this article to the end.
What causes bad breath in cats?
The possible causes behind the bad breathe of a cat are
Dental disease
Cat bad breath can occur due to the buildup of odor-producing bacteria in the cat's mouth. These bacteria and saliva combine to form tartar if not treated early. Furthermore, these odor-producing bacteria can cause many periodontal diseases and infect the tissues of the teeth.
Excessive drooling, brownish tartar, difficulty eating, and chewing on one side only, inflammation of the gums is the indication that your cat suffers from dental disease, and you should contact your vet immediately.
Diet
At some point, there are dietary problems behind the cat's bad breath. Some foods like liver, fish, and other foods that contain these ingredients can be the cause of bad breath. At some point, the bad smell is due to any foreign object lodged in your cat's mouth. These feed-related issues are easy to solve, all you need to do is change the feed.
Stomatitis and Gingivitis
Stomatitis is defined as inflammation of the mucous lining of the mouth, and gingivitis is defined as inflammation of the gums. In cats, these conditions develop due to diseases that occur due to viruses, bacteria, and allergies. Stomatitis and gingivitis can be the cause of bad breath in cats. You can consult your vet for the proper checkup of these conditions.
Metabolic diseases
Some time, bad breath in cats is not due to poor dental hygiene. There may be some other internal conditions like gastrointestinal diseases or kidney diseases in elderly cats. In certain kidney problems, your cat's kidney becomes overwhelmed and will not detoxify anything else.
Sometime toxemia can be the cause of bad breath in cats. Other conditions that can cause bad breath in cats are liver disease and diabetes. If your cat has a bad smell along with one of these serious health problems, a trip to the vet will be very beneficial.
How do I get rid of my cat's bad breath?
Every time you start bad breath treatment, there should be a simple goal behind the treatment: eliminate the unpleasant odor. You should start a good oral hygiene program for your kitten from an early age. The deal is simple, you have to be consistent and committed and consistent.
Another way to prevent bad breath is to brush your cat's teeth to prevent tartar buildup. Always use toothpaste that is made especially for cats; you can get this toothpaste at any pet store. A special cat toothbrush can also make the process easier.
Brushing teeth should be done daily, if not daily, at least three to four times a week. Daily brushing of the teeth can be a challenge for you, especially when your kitten is in the learning phase. Your cat will begin to behave normally overtime during tooth brushing, just stick to your routine.
Once a year, professional dental cleaning is also necessary to avoid bad breath. During professional teeth cleaning, your kitty will be put under anesthesia so that they can not only easily navigate your cat's mouth, but also thoroughly clean the area where the toothbrush cannot reach.
If your kitten suffers from any gum disease, your first goal is to treat the cause behind the gum disease. A complete oral exam is important for the cause to be diagnosed and treated correctly.
If your cat suffers from any systemic disease such as gastrointestinal problems or kidney problems, your vet will perform certain diagnostic tests and will recommend some dental care routine at home to avoid bad breath.
There are many dental care products, and there are even foods available on the market to combat cat bad breath. Some dry cat foods, such as kibble, have shown a tendency to reduce tartar buildup and plaque formation in cats, and it also keeps your kitty's breath fresh.
It is however, not always easy to brush your cat's teeth. And most often then not they will not allow you to do so. That is why we have produced our all new Cat Dental Diet.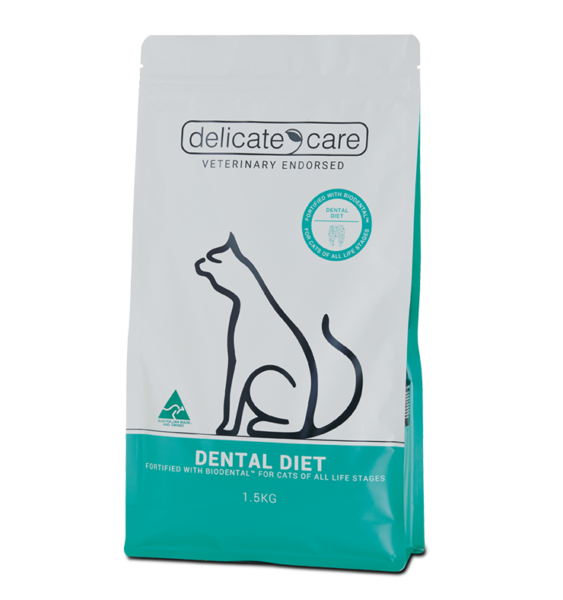 It is a all life stages food, specially formulated to provide complete and balanced nutrition for cats while at the same time promoting dental health. It's a perfect complement to the dental management plan prescribed by your Veterinarian and is suitable for lifelong use.
Does wet cat food cause bad breath?
As you know, diet is one of the main problems behind bad cat breath. So if you're looking for the cause behind your cat's bad breath, look at what she's eating. By taking your cat to the vet, you can rule out the diet problem behind bad breath.
Occasionally, wet food can be the cause of bad breath in cats because wet food can stick to your cat's teeth; these things cannot happen in the dry food. You can try changing your cat's food to get rid of bad breath.
What should cat breath smell like?
If you get too close to your kitty's mouth, you will smell a slight odor, don't worry, it's normal. Usually, the cat's breath smells like the food she eats. If your kitten has eaten raw fish or eggs, her breath smells like it. This slight bad breath is noticeable but not horrible.
Why does my cat's breathe smell so bad?
The cat's breath can smell very bad due to the odor-producing bacteria in the cat's mouth. Sometimes when your kitty suffers from a mouth injury, and that wound gets worse, it can also be the cause of bad breath in cats.
A healthy cat breathe is not offensive, but if your cat suffers from any problem, you should contact your vet and find the best treatment for your kitten to have a happy and healthy life.